- PROCESS -
Velodrome Rendering
Svigals + Partners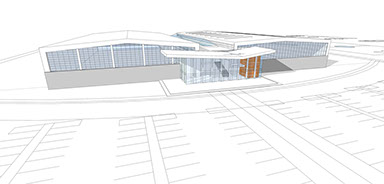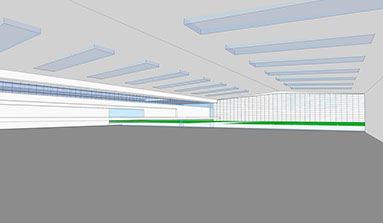 SKETCHUP MODEL
The client provided a basic SketchUp model. We selected camera views from various locations. The exterior was going to be dynamic and the interior needed to show the interchangeability for multiple uses.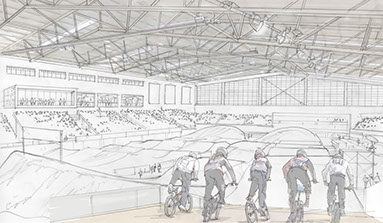 LINE DRAWING
We had several discussions with the client and produced preliminary sketches before we came to this point. The bike riders in the foreground were a crucial part to fully understanding the interior space.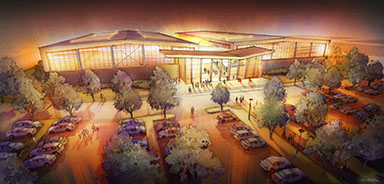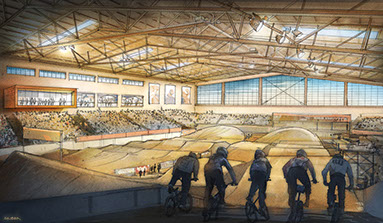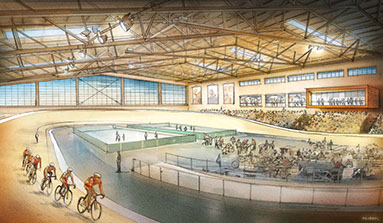 FINAL RENDERING
The finish colorization has an interesting light quality. It's moody, invokes mystery and is exciting. The client was trying to move forward an idea of this type of facility within the community. The renderings provide enough detail to make it feel like a real place, while leaving room for the imagination.
The rendering was flipped horizontally and the ground plane was redrawn to represent the second interior space.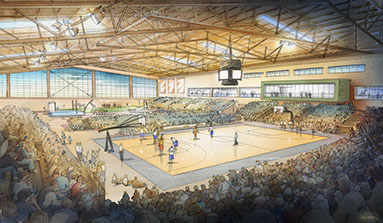 This version depicts a basketball tournament and continues the idea of a multi-use building.
SEE FULL SIZED VERSIONS OF THE RENDERINGS
- PROCESS -
Design Development
Casper Ranch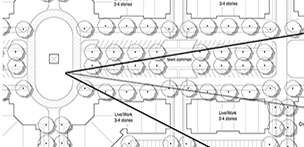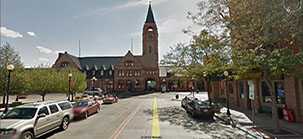 This tower was near the site
STAGE 1: DOCUMENTATION GATHERING
This town center perspective was one of 4 renderings produced for the project. The client provided a master site plan and photos for design direction.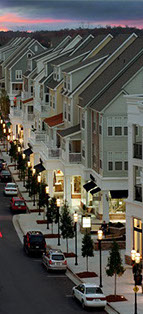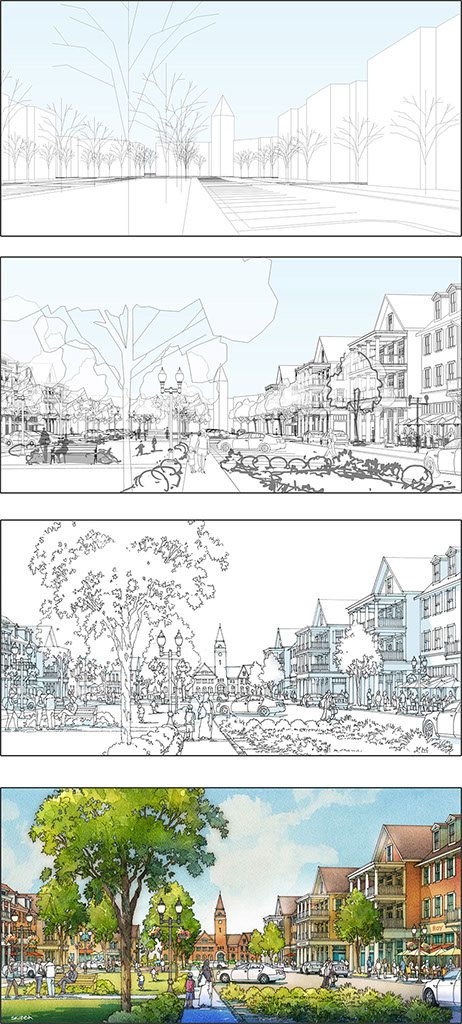 STAGE 2: MASSING MODEL
A SketchUp model was built from a CAD site plan. Building heights ranged from 2-3 stories. Multiple camera options from this general location were reviewed by the client. This camera location reveals both sides of the development while highlighting the central green. The terminus of the view is the tall clock tower.
STAGE 3: PRELIMINARY VIEW
We really start to see the character and fabric of the project here. The SketchUp model is articulated with details. Cars, people, trees and vegetation are carefully composed and roughly sketched in to further enhance the focal point. All of the elements direct the viewers attention inward. The cars are centrally pointed. The eye dances around the image and is always recentered at the tower.
STAGE 4: FINAL DRAWING
The final drawing refines the people, cars, trees and architecture. Here we see the start of shadow areas that help define the overall environmental feel. Small changes were incorporated prior the final colorization.
STAGE 5: FINAL RENDERING
Coloring the image in a watercolor style provides a "soft touch" to the project. This rendering style leaves room for imagination and interpretation. The buildings are really a backdrop for the intended life style of the project. There's retail activity at the first floor. Residential spots are above. Kids are playing. Mom is walking the little one. People are easting under shade umbrellas. Light poles are accented by flowering pots. It's all in there. It looks designed and hits the right tone.
FINAL RENDERINGS FOR THE PROJECT
SEE MORE
SKIBBA ILLUSTRATION, LLC
Pittsburgh, Pennsylvania
Phone: 608-215-5588
Email: joe@joeskibba.com