In December, Pittsburgh Magazine broke the news that Derek Stevens, the long-serving executive chef of Eleven Contemporary kitchen in the Strip District, would be leaving the big Burrito Restaurant Group to open his own restaurant. We left the story with "more details as this develops." Now we have some of those details. Today, Stevens announced the name and location of his new concept. It's called Union Standard, and it'll be located in the Union Trust building Downtown. The historic building currently is undergoing a $100 million restoration. Union Standard will be housed on the ground and mezzanine floors, and will overlook Mellon Park. "I'm just really excited to bring this vision to life and put my own creative spin on things," Stevens said in a press release.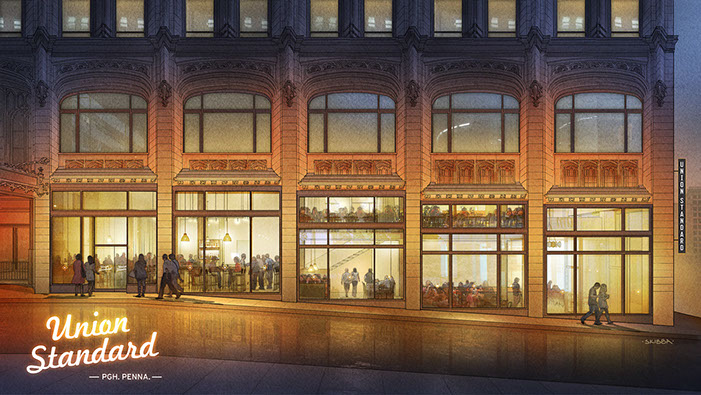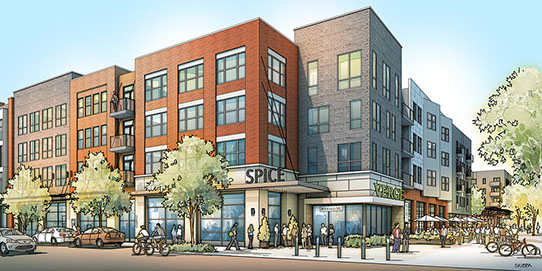 Milhaus Presents 625-Unit
Lawrenceville Redevelopment Proposal
Mar 3, 2016 | www.bizjournals.com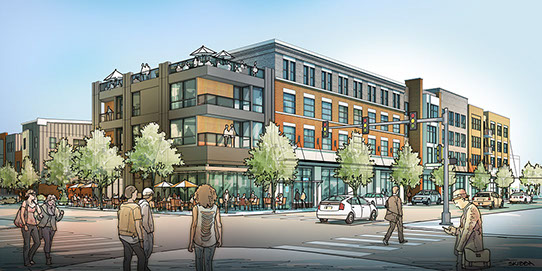 Indianapolis-based Milhaus Ventures presented its plan to develop a 625-unit apartment community in Lawrenceville to the Zoning Board of Adjustment with conditional agreements in place from two key community organizations in the neighborhood, Lawrenceville Corp. and Lawrenceville United.

After recently paying $8.75 million for the 12.75-acre Arsenal Warehouse property at the corner of Butler and 40th Streets, Milhaus seeks two special exceptions from the ZBA, one to build multiunit residential on a site zoned urban industrial, and the other to build up to five stories in portions of the project, which expects to remain below a 60-foot height requirement.
It's a project expected to cost between $125 million and $150 million that Milhaus has been working with the Lawrenceville Corp. and Lawrenceville United for nearly a year. continue reading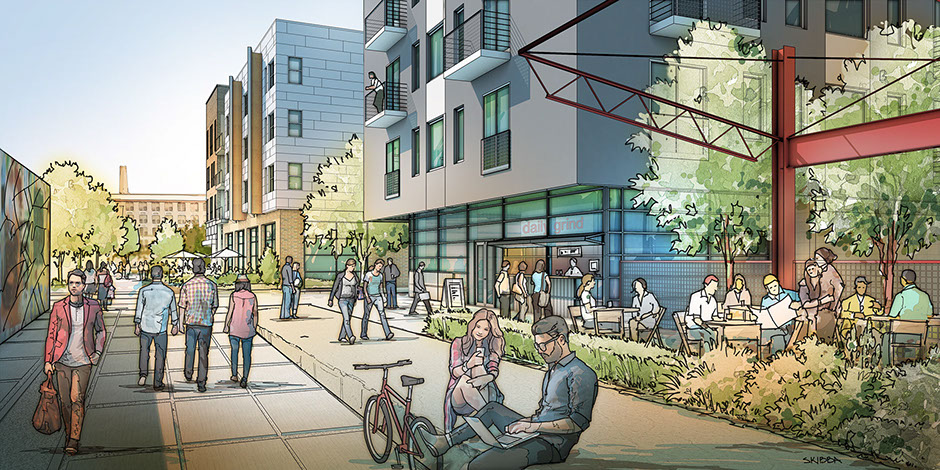 Architects Brief Boards
on School Design
by John Pirro | www.newstimes.com
May 14, 2014
A sense of community. Vistas that will foster students' appreciation of nature and the environment. And alternative learning spaces that will let children know what is happening within them is special and different from an ordinary classroom experience.
Those are just some of the features that await students attending the new school that will be built in Sandy Hook, a team of architects told members of the Board of Education and Public Building and Site Committee on Wednesday.
Cost figures and other specifics were not discussed at the meeting, which was intended to bring school board members up to speed on the progress that has been made in designing the facility over the past few months. continue reading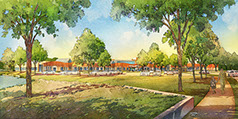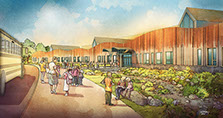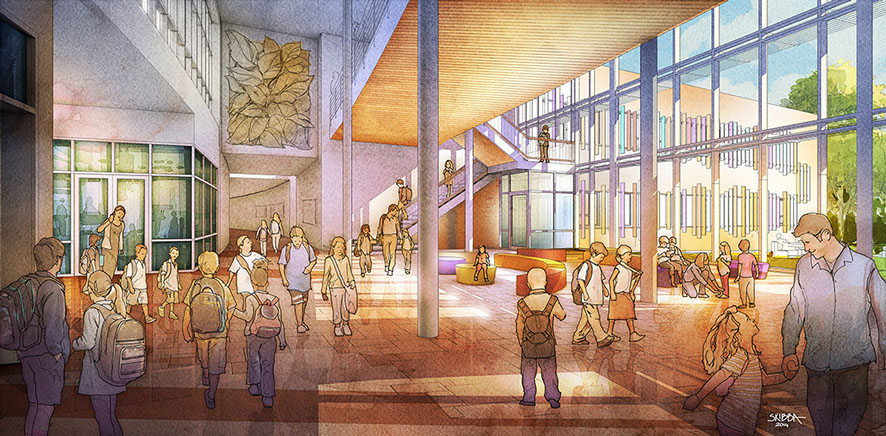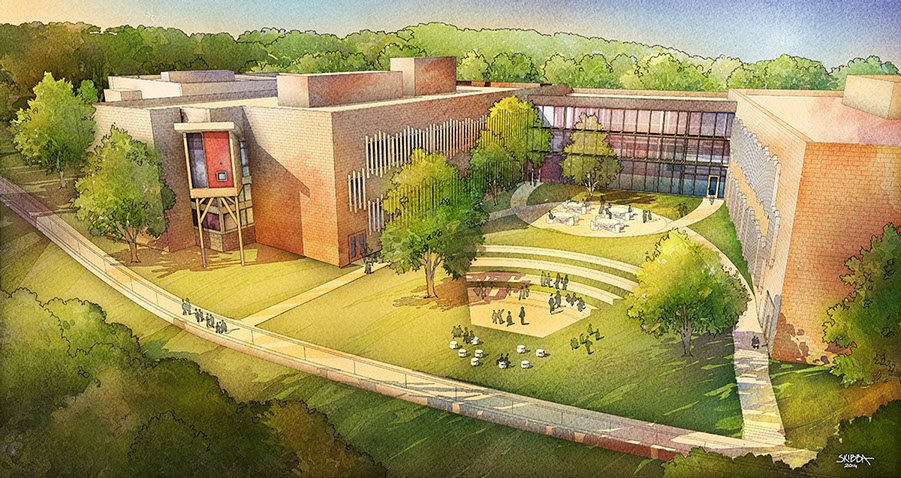 Flemington Planning Board Quizzes
Developer to Get His Point of View
by Rick Epstein | www.nj.com
Revitalization Plans for Six Flemington Sites to be Unveiled
by Rick Epstein | www.nj.com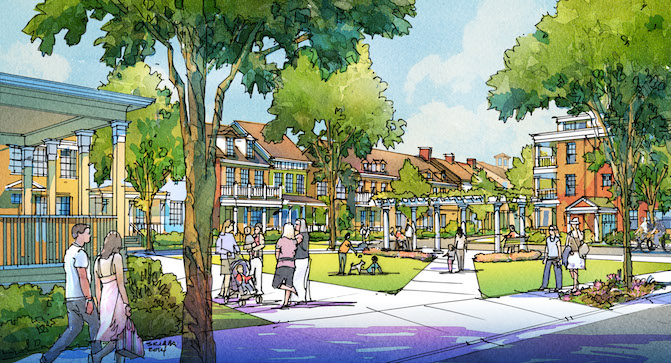 With the borough wanting to roll out the red carpet for desirable redevelopment, the Planning Board was glad to talk informally to a developer who doesn't have an application pending but might someday.
At the tail end of the April 7 Planning Board meeting, Jeff Fleisher introduced David Trager to the board. Fleisher is the chairman of the Business Improvement District's Planning and Recruitment Committee, and Trager is chief investment officer for Woodmont Properties, a company that primarily builds, owns and manages apartment buildings in New Jersey, Pennsylvania and southern New York. But some projects have retail elements, too. continue reading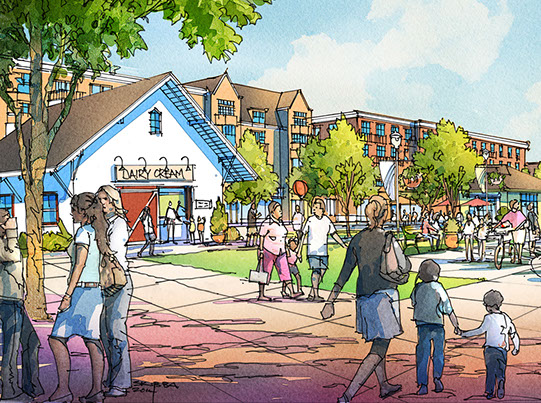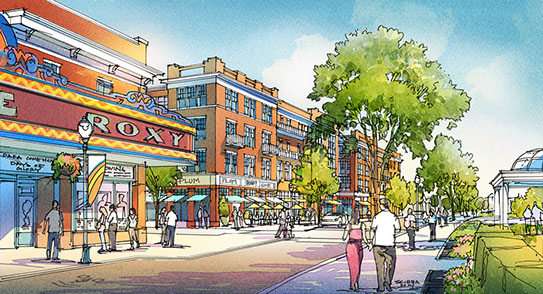 Visions of Flemington's potential future will be presented on Tuesday, Feb. 25, at 7 p.m. in the old county courthouse on Main Street. Tim DeLorm of TerraNoble Design has been hired by the Flemington Business Improvement District to create this "Recommended Downtown Strategic Plan."
It will include specific suggestions for redeveloping six sites in the borough — the Union Hotel block, the Cut Glass property, Fulper Road, Turntable Junction, the Daiboch property (at Park Avenue and Corcoran Street), and the former Agway properties. Delorm presented preliminary ideas to the public on Jan. 15. continue reading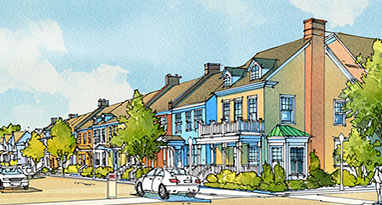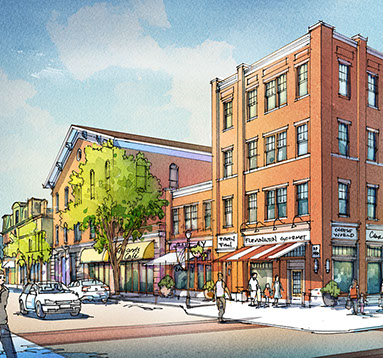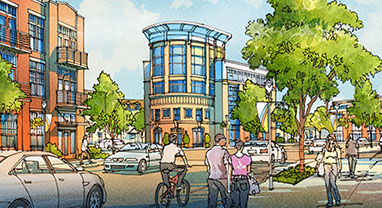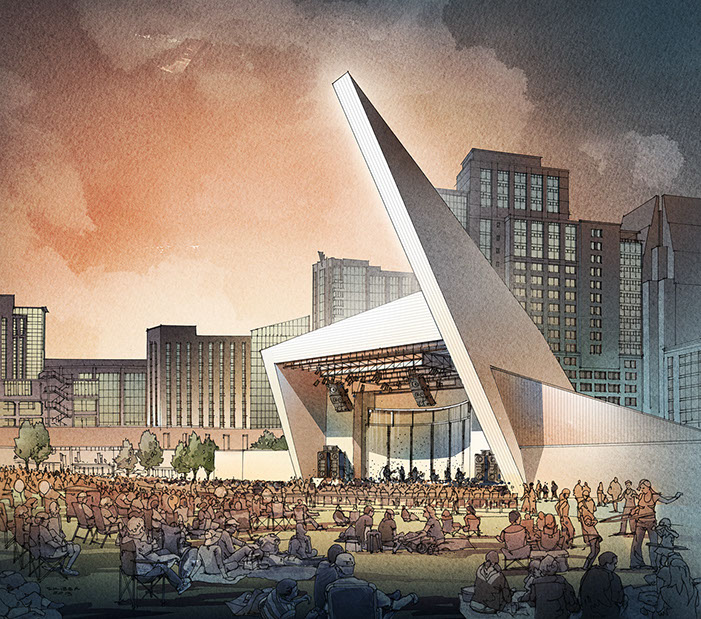 Between a Public Squabble and
a Much-Criticized Design,
All's Not Quiet on Nashville's
West Riverfront

As the city moves forward on the west riverfront — a complex project that will transform the former thermal site, provide a long-coveted amphitheater and dictate flood mitigation strategies — it's been blog fodder for weeks that a competitor in the running for the project has publicly cried foul, claiming "the fix was in" as Mayor Karl Dean and his minions selected the winning design team.
Less noted, however, is that the team chosen to do the project has already produced a conceptual design for the amphitheater — one that has members of Nashville's design community reaching for their sick sacks.
The amphitheater design is part of the West Riverfront Master Plan, released in August. It was developed by a design team headed by Nashville landscape architects Hawkins Partners; the local Smith Gee Studio was the architectural firm on the team. Reaction from local designers has been critical, to put it mildly. continue reading
Dean Unveils Riverfront Amphitheater, Parks Plan
Mayor Karl Dean unveiled park projects for both sides of the Cumberland River Tuesday that he says will make Nashville's riverfront a "destination."
Standing halfway across the Shelby Street Pedestrian Bridge and flanked by conceptual renderings, Dean announced the completion of the West Riverfront Master Plan and the beginning of its design phase. While it will include a flood wall and a new pedestrian promenade — dubbed the We Are Nashville Promenade — the plan is anchored by a 12-acre park at the former Thermal Transfer Plant site that will include green space and an amphitheater. continue reading
Discussing the South of Broadway Strategic Master Plan
The final report was released in January, after six months of public input and study. The planning team was led by Pittsburgh-based Urban Design Associates (UDA) and a team of local companies, including Smith Gee Studio and Hawkins Partners. The plan addresses flood mitigation and proposes initiatives to improve residential, green space, and transit options, as well as potential future expansion of the Music City Center Convention Center.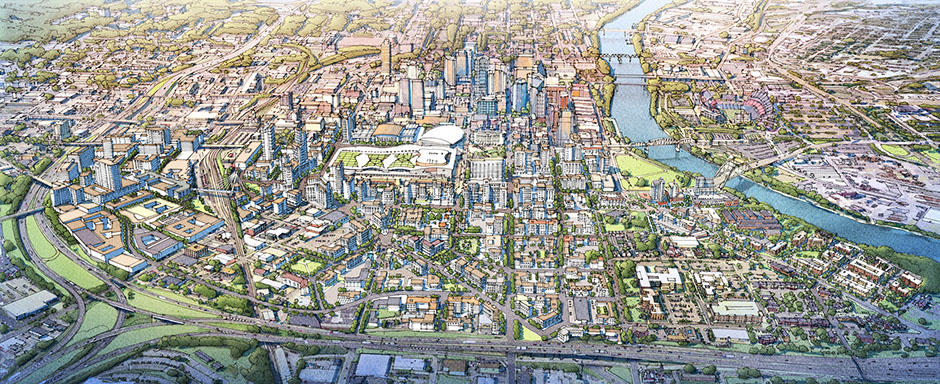 MOSCOW - New Federal District
By population, Moscow is the second largest city in Europe (after Istanbul), and, somewhat famously, has a bit of a problem with quality of life. It's expensive, it's ridden with pollution, and its public transport system is often close to collapse. When a huge green cloud appeared over the Russian capital in April, residents naturally assumed it was just another chemical gas leak from a local factory, such is the expectation of environmental disaster (though, thankfully, it turned out to only be pollen). In Mercer's 2011 Quality of Living survey, it ranked 166th out of 221 for quality of life.
Such problems, along with the degradation of the historic centre of the old city, led to the Russian government annexing a huge swathe of land to the southwest of the capital from the Moscow Oblast into Moscow City proper in July. It more than doubled the city's size, from roughly 1,000km2 to almost 2,500km2. Now, after a bidding process, the Capital Cities Planning Group's (CCPG) plan has been chosen as the blueprint for one of the key parts of "New Moscow" -- a new Russian federal district. continue reading
PROJECT: Moscow Concept Master Plan
CLIENT: City of Moscow (GenPlan)
ARCHITECTURE FIRM: Urban Design Associates
This team was one of nine selected by the City of Moscow to prepare concepts for growth of the city. Their approach was based on a spiritual framework that would apply Moscow's unique DNA to all aspects of the expansion. continue reading
UK Firms Chosen to Plan Moscow's New Federal District
An international jury headed by Deputy Mayor Marat Khusnullin has awarded the design and planning of Moscow's new Federal District to the Capital Cities Planning Group led by US-based Urban Design Associates and including UK firms Gillespies, John Thompson & Partners and Buro Happold. Overall planning of Moscow will be undertaken by Antoine Grumbach/Jean-Michel Wilmotte of France. continue reading
CCPG Selected as Winner in the Design Competition for the New Federal District in Moscow
Moscow Agglomeration Plan - Capital Cities Planning Group
www.vimeo.com
Earlier this year the Russian Federal Government announced that it was doubling the territory of Moscow to enable it to grow into a competitive 21st century world capital. In response, Genplan, Moscow's city planner, earmarked an area of 155km2 to the south-west of the city for a new Federal Government Centre, aiming to relieve the inner-city through the relocation of the capital's major employer. As a result, the expansion will see Moscow double in size to create a 'metropolitan federal district'. CCPG winning proposal calls for a new 'City in the Forest' for 1.7 million people, providing 800,000 new jobs over the next generation with a focus around the 'Triple Helix of Government, Education and Business'. The new layout reconfigures the 155 km2 and looks to create an integrated, properly-planned urban hierarchy served by a transit-orientated movement system. continue reading
The Capital Cities Planning Group includes:
Urban Design Associates - Pittsburgh, USA;
John Thompson & Partners - London, UK;
Gillespies - Glasgow, UK;
Beasley Associates - Vancouver, CANADA;
Nelson Nygaard - San Francisco, USA;
Buro Happold - Copenhagen, DENMARK;
Stuart Gulliver - Glasgow, UK;
Group Ark - Moscow, RUSSIA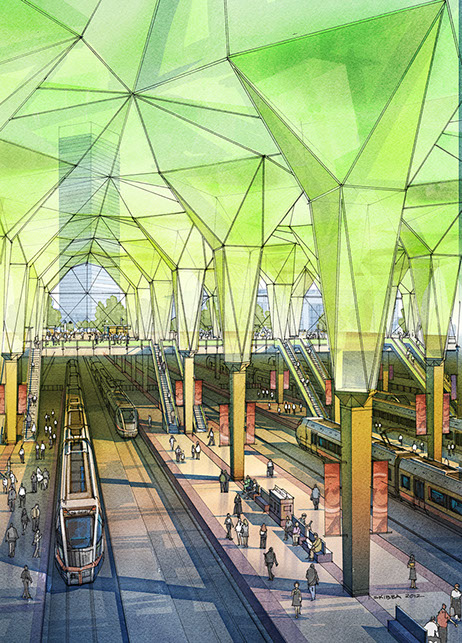 The developer that built Crawford Square in the Lower Hill District is picking up where it left off. St. Louis-based McCormack Baron Salazar has been selected by the Pittsburgh Penguins hockey team to kick off the redevelopment of the 28-acre former Civic Arena site. It will serve as the lead residential developer on the project, with plans to build apartments, townhouses and perhaps for-sale housing over the next decade on the Lower Hill site. After erecting more than 400 rental units and for-sale homes as part of the Crawford Square development two decades ago, McCormack Baron will provide an encore -- starting with a 200- to 300-unit first phase on the eastern edge of the arena site. continue reading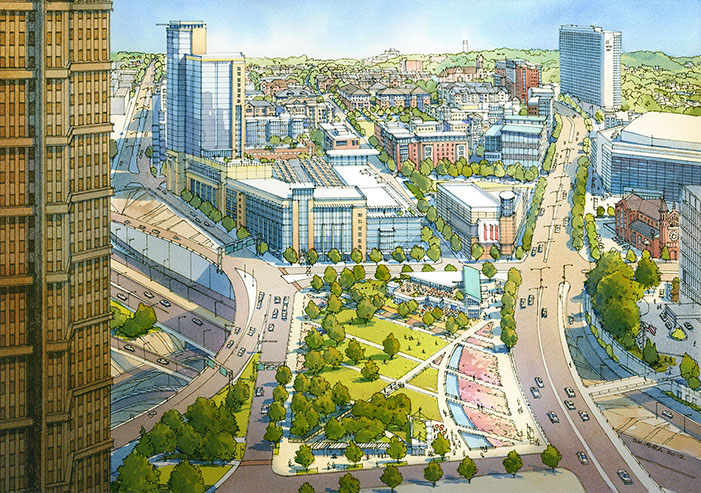 Tansportation and Land Use Plan
Pittsburgh, PA | www.pittsburghpa.gov
August 28, 2013
The City of Pittsburgh has a robust planning process that is addressing new opportunities while overcoming historic challenges. There is a place in Pittsburgh - two miles long that runs along the Allegheny River from Lawrenceville into Downtown - the Strip. This is one of the special places where the City has a concerted planning focus. With a series of vision and framework plans in place, The Strip District Transportation and Land Use Plan is about implementing, accommodating, and accessing future investments. With implementation, however, even as growth is accommodated, there is an imperative that the soul and energy of the Strip's be sustained. The Strip will always be...A Place of Character.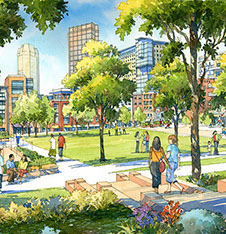 The redevelopment of the Lower Hill Site Redevelopment will be an important part of defining Pittsburgh's future. The goal is to create a new high quality, mixed-use, sustainable development that will establish a renewed connection between Downtown Pittsburgh and the Hill District. Envisioned as an city neighborhood, the site will have an urban density that responds to its context and is pedestrian oriented.
The New Strip District
Transportation Vision
City of Pittsburgh releases its "Five Ways" Transportation and Land Use Plan for The Strip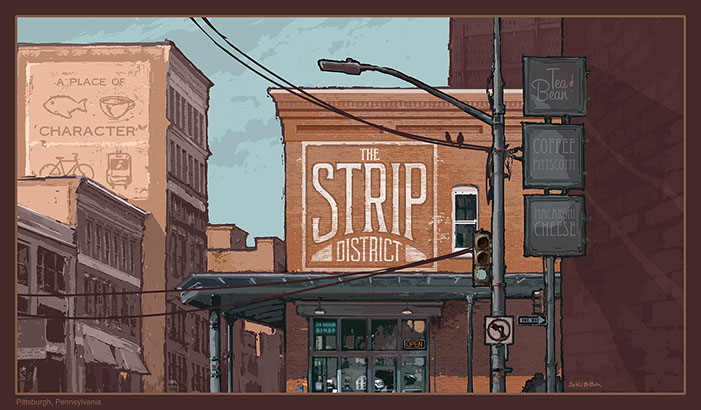 SEE MORE
SKIBBA ILLUSTRATION, LLC
PITTSBURGH, PENNSYLVANIA
Phone: 608-215-5588
Email: joe@joeskibba.com